http://foothillgoldline.org/foothillgoldline.org
Lisa Levy Bush, currently with the Construction Authority Responsibility group made up of 8 full-time staff, discussed the upcoming developments with the Foothill Goldline. Their group is expecting the San Gabriel Valley to grow 7.6% in the next 7 years.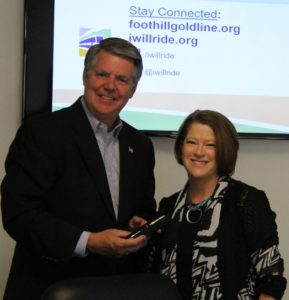 Their first Goldline Project was completed in 2003 from Los Angeles to Pasadena. In March 2016, they finished the goldline from Pasadena to Azusa on time and on track with budget; the metro is seeing approximately 54,000 riders every weekday.
Lisa stated that just recently they got approved for the next phase of the project, which is the development of the goldline running from Glendora to Montclair, which covers a 12.5 mile radius. They just received their utility contracts this week which they will begin working on. The new project is expected to be done in 2026, breaking ground on the project December 2, 2017 at the Citrus station.
If you are interested in seeing more about the project, you can visit foothillgoldline.org or iwillride.org.