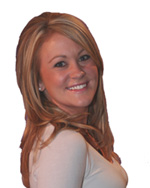 Brittney Massey graduated with honors from California State University Long Beach in May 2008. She majored in Communications with a minor in Psychology. Brittney is currently participating in two internships. It is her plan to pursue a career as a Christian motivational speaker.
Brittney was a participant in our district RYLA program in 2003 as a junior at San Dimas High School. She returned to RYLA as a keynote speaker in 2007 and 2008. She also participated in the Rotary International RYLA in 2008.
When the Rotary Club of Long Beach decided it was time time to recruit and retain younger memebers it was only natural that they would sponsor a Long Breach Rotaract Club. Brittney was one of the first California State University Long Beach students to join the Rotaract Club where she was soon elected president.
Along the way to partnering with the new Rotaract Club the members of the Rotary Club of Long Beach learned new skills and developed new strategies for communicating with young people. Brittney will provide the members of our club with insight on how young adults communicate differently from the seasoned members of our club. We need to understand them if we are going to recruit them.